A couple of photos taken at Ecclesfield Gala in the Park on 5th September 2010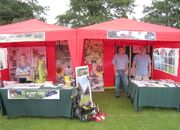 The Conservation and Bloom groups managed to buy a couple of Gazebos this year, which put together, really stood out....
I would have taken a picture of the Cakes made by the Parks Group opposite, but the cakes were so nice they got eaten. However, there were still a fantastic number of books for sale, so I photographed them instead...
(Double click on a picture to enlarge it JimP 12:02, September 5, 2010 (UTC)